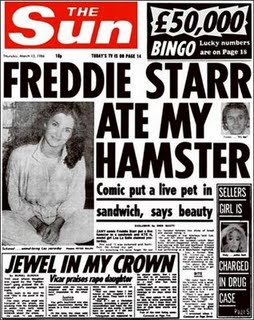 Bus Found On Moon!, Freddie Starr Ate My Hamster, Elton Takes David Up The Aisle….Everyone loves a quirky or cheeky headline.  And everyone just knows they can write them best.  So clients sometimes ask why PRs aren't more creative with their press release headlines. 
Well it's not just that we're dull.  I've always been told that press release headlines need to be functional, not entertaining.  A good headline must do the job of letting  journalists know as quickly and as clearly as possible what the story is about.  So clever puns or cryptic press release headlines – no matter how witty – are in fact a big no no!
And of course the best journalists will seldom want to take your headline straight off the same press release that all their competitors are receiving.  They'll want to develop their own hook and angle and  come up with a headline to match that'll make the story theirs.   
So rather than ask whether the headlines written by your PRs are creative.   Ask if they convey the key point of the story as clearly and succinctly as possible.  Job done.
(NB Of course the above only applies to press releases ie aimed at quickly grabbing the attention of journalists  – who spend their time wading through hundreds of PR headlines a day.  If you're writing social media releases targeted directly at your key audiences, then I think there's probably more room for entertainment in your headlines.  Although if they're too cryptic or clever you can still get ignored).