PR Challenge
Logistyx Technologies, a leader in strategic parcel shipping and fulfilment technology, approached CloudNine PR to help it 'break the ice' with the UK and European media. Its main goal was to build awareness and credibility for the Logistyx brand, technology and expertise. Importantly, it wanted a PR partner that could work under its own steam to deliver results.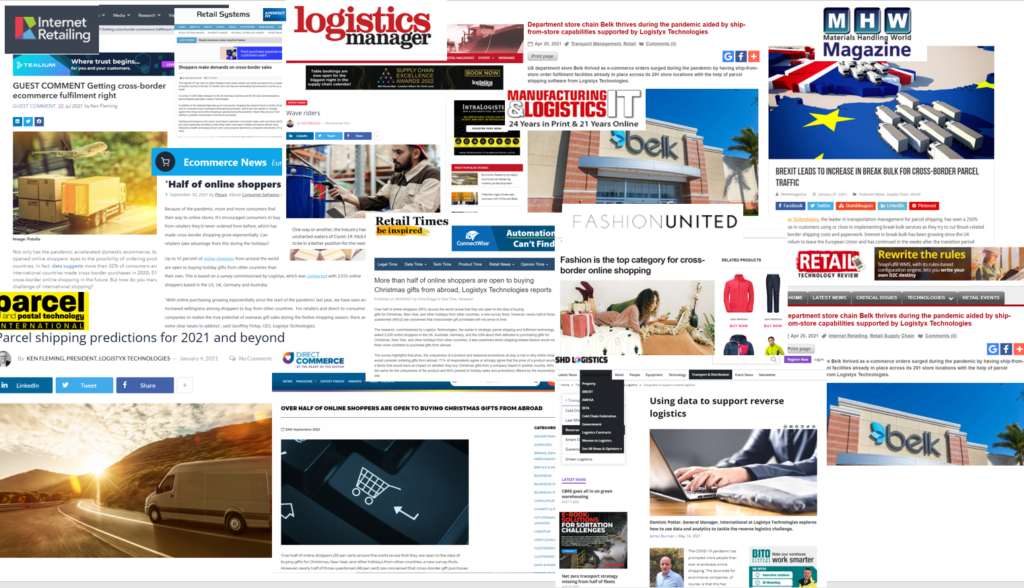 Approach
CloudNine put in place a media relations programme to generate ongoing visibility across media covering retail, ecommerce, logistics and the supply chain as well as business and key verticals.
In addition to targeting editors with Logistyx' corporate and product news, we developed and successfully pitched ideas for editorial features, interviews, and guest articles. These were based on the evolving issues in the supply chain and logistics industry such as:
The impact of the pandemic on global supply chains
How retailers could react to the challenges and opportunities created by the uptick in ecommerce during COVID 19
Brexit and the resulting challenges and opportunities for cross border supply chains and parcel deliveries
How AI machine learning can enhance ecommerce delivery operations
Hot to address the operational challenges and high costs of ecommerce returns
The logistics and supply chain challenges of COVID 19 vaccine distribution
The pressure on retail and ecommerce brands to act on sustainability in their supply chain and logistics operations
To support Logistyx' content marketing and lead generation efforts, CloudNine created a variety of blog posts, e-books, white papers, and more.
Results
The PR generated a continuous stream of coverage in key target media, averaging six news pieces, guest articles or mentions per month. This included titles such as Logistics Manager magazine, Internet Retailing, Parcel & Post Technology International, Manufacturing and Logistics IT, Direct Commerce, Retail Systems and SHD Logistics.
A multi-country consumer survey developed and commissioned by CloudNine provided insights that fuelled a range of content marketing assets. Among them were a downloadable report, webinars, blogs and sponsored articles. The research, which revealed consumer attitudes to cross-border ecommerce, was also pitched widely to media, generating coverage in retail, logistics and vertical publications in the run-up to the peak retail season.
Client quote
"CloudNine had the depth and breadth of experience necessary to quickly scale Logistyx's brand awareness in Europe, influence revenue growth, and help position the company for a successful exit. Through targeted outreach efforts, they secured features for the company and its thought leaders in both national business media as well as industry-specific media within the first few months of engagement and consistently replicated this success over a three-year partnership. The CloudNine team knew our space, they told great stories about our company, and they ensured our executives and industry experts made the right impressions. They have been a great partner and one of Logistyx's most powerful assets".
Lisa Henthorn VP Marketing Communications at Logistyx Technologies (now a part of E2open