PR challenge
Localstars is an innovative ad tech company that is focused on helping media owners, publishers and agencies create high impact ads and grow display advertising revenues. Its unique technology allows ads to be created in multiple formats – digital, mobile, video and print – simultaneously, and within minutes. When the company was first launched, Localstars needed to raise its profile and drive up awareness and credibility among media owners, publishers and the advertising community, as well as among small business advertisers who were among its important early targets.
Approach
CloudNine PR created a media relations launch campaign focused on a number of key activities
News announcements highlighting Localstars' partnerships with publishers, the introduction of new ad technology and new hires  who joined the company from senior roles in the publishing industry
Case studies showcasing the benefits that Localstars' ad technology was delivering to advertisers in a variety of business sectors
Media briefings arranged to introduce Localstars to key journalists
Guest blogs and opinion articles written and placed in marketing and small business media
An awards and speaking opportunities programme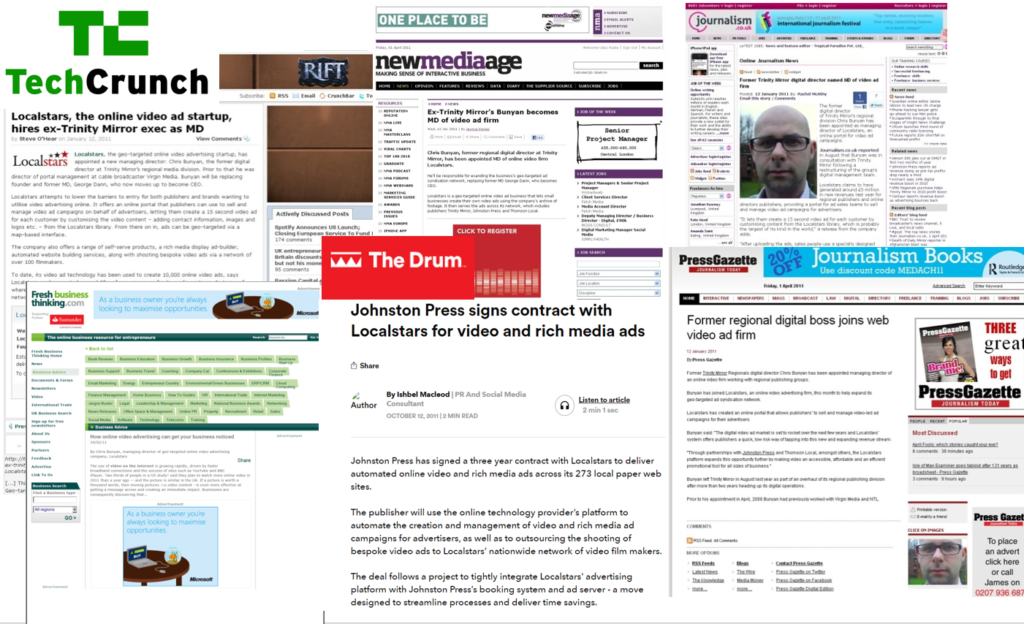 Results
The campaign generated nearly 80 pieces of media coverage in the first 12 months, including initial launch coverage in The Drum, New Media Age, TechCrunch, PressGazette, Paid Content and Journalism.co.uk. Other coverage included The Daily Telegraph, Mobile Marketing, InPublishing, HoldThefrontPage and the Newspaper Society.
10 guest articles were developed and placed in a variety of target titles including Fourth Source, New Media Age, InPublishing, Utalkmarketing, Fresh Business Thinking, Business Zone and Hotel Business.
Six introductory briefings were arranged with titles including New Media Age, The Marketer and New Media Knowledge
A speaking opportunity was generated at Publishing Expo and the awards programme resulted in Localstars being named a finalist in the National Business Awards