The tech PR calendar is full of anniversaries and awareness days that public relations pros can 'lean on' to generate PR coverage in the technology and business media. We used this approach in a PR push for enterprise information management software company, Macro 4 when the GDPR turned five earlier this year.
Software vendor, Macro 4 helps its customers manage information across their IT infrastructure in line with the General Data Protection Regulation. So, of course, the 5th anniversary of the GDPR was a great opportunity to generate media visibility.
Digging into the views of technology bosses
We worked with Macro 4 to develop a survey of UK IT bosses. And despite keeping the costs deliberately low by using only one multiple-choice survey question, we extracted some compelling insights. For example, 66% of UK IT leaders said GDPR has made customers less willing to trust businesses with their personal information. 44% believe the additional red tape created by the GDPR has hampered digital transformation and nearly one in five (18 per cent) is still not confident that their organisation is fully compliant.
86 per cent said they believed the GDPR is at risk of becoming irrelevant if it fails to keep pace with new AI technologies such as ChatGPT.
You don't always have to spend big on PR surveys to drive results
By pitching the data along with Macro 4's comments to target media, we generated coverage in a range of titles, including Information Age, The Verdict, Compliance Week, Infosecurity, IT Security wire and more.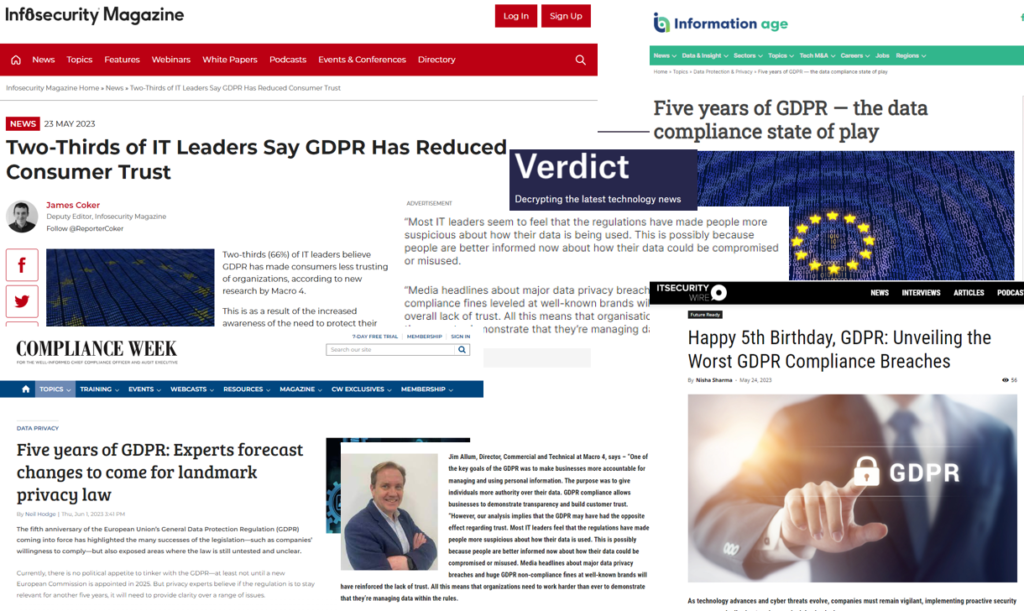 So to sum it up, if you think creatively, even a low-cost survey with a single multiple-choice question can help you create headlines.