PR challenge
Like every other technology company, Nosto, the commerce experience platform used by thousands of ecommerce retailers globally, found that in late March 2020 the plans it had in place for UK and US public relations had suddenly been made redundant by the pandemic. COVID-19 had shaken up the media agenda, meaning Nosto's PR had to rapidly shift focus to stay relevant as the crisis evolved.
Approach
CloudNine PR worked closely with Nosto to adjust the PR strategy. Together we found ways to tell stories about how the pandemic was impacting the ecommerce landscape, as well as providing insights and advice about the ways in which the industry could respond to the exceptional circumstances.
Tactics included generating media attention for a series of data snapshot reports which used insights from Nosto's global platform to chart ecommerce performance as the crisis unfolded.
To provide thought-leader content, we commissioned consumer surveys exploring how the pandemic was changing shopping behaviour in the key Home & Garden and Beauty verticals. The findings were turned into media announcements, blogs, reports and other marketing content.
The additional goal for Nosto was to find ways to maximise the PR budget – which meant we were adapting any content and media pitches so that they were appropriate to both the UK and North American markets.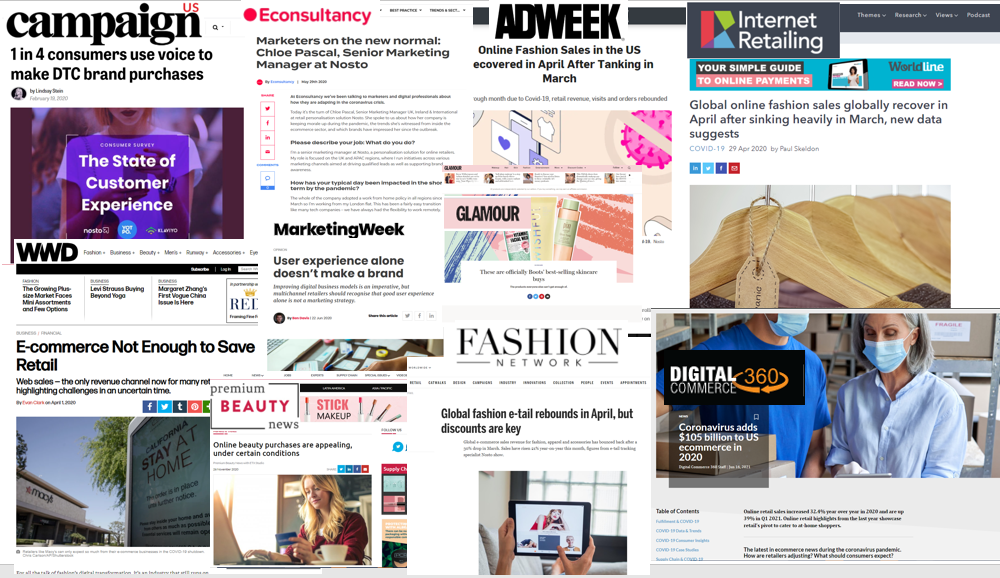 Results
Despite the disruption created by the COVID-19 crisis, we were able to help Nosto generate ongoing media visibility, racking up 112 pieces of coverage during the course of 2020 across retail, marketing and key vertical media. In the UK this included the likes of Internet Retailing magazine, Fashion Network, Retail Times, Econsultancy, Marketing Week, Cosmetics Business, Premium Beauty News and leading women's magazine Glamour. In the US there was AdWeek, DC360, Campaign US, MediaPost, Yahoo News, MSN, Women's Wear Daily , Luxury Daily, Footwear News and Furniture World.
Client quote:
"We needed to ensure Nosto's PR kept delivering despite the rapidly changing media agenda during the pandemic. The team at CloudNine PR showed they were up to the challenge. They helped us pivot our strategy and were proactive in coming up with strong ideas for PR content and media angles as well as developing thoughtful survey-led PR campaigns to keep the coverage rolling in."
Chloe Pascal, Head of Regional Marketing, Nosto