The results of a new study by Cloudnine PR's client Searchmetrics have been featured in The Times, The Wall Street Journal and a host of other marketing and technology publications this week.
Searchmetrics, a specialist in search and content marketing technology, was one of the first companies to analyse the make-up of Google's shopping service in Europe after it was forced to change last September in order to to satisfy the EU's antitrust concerns.
Google Shopping consists of various advertising boxes and carousels that Google inserts into the search results when it senses that someone is looking to buy specific products. And the EC regulator imposed a hefty £2.2bn fine on the search giant for being unfair to its rivals, the other shopping and price comparison services, who did not appear in Google Shopping.
In response, Google changed the service in Europe to  allow other comparison sites to bid for ads (known as product listing ads – PLAs)  alongside Google's own shopping ads.
However, the Searchmetrics study (which is published in full on its blog) suggests the the new-look Google Shopping is still dominated by  Google's own ads despite the changes. In the UK only 0.4% of the PLAs that appear in desktop searches in the shopping service have been found to be from Google's rivals.  In Germany it is 2%.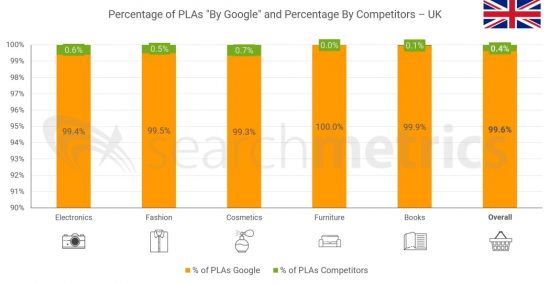 To come up with the numbers, Searchmetrics analysed how frequently rival comparison services appeared in the shopping units in Google desktop searches in both countries using data collected at four points in December. The results were analysed across five of the biggest eCommerce sectors – Electronics, Fashion, Cosmetics, Furniture and Books using 500 popular keywords for each category (2,500 in total) in each country.
In both countries, cosmetics and electronics are the sectors with the highest competitor presence. Of the rivals who are appearing, Kelkoo.co.uk was most visible (had the most PLAs in the data that was gathered) in the UK – and Moebel.de was most visible in Germany.