Last week I ran an online poll in which I asked 500 people about the first place or person they'd consult when looking for information about a new product or service they're thinking of buying. 
The majority –  55 per cent – said they'd go straight to Google. This was more than double the number who would ask friends and relatives (24 per cent).  And while marketers have made a big play about the importance of social media recommendations, only 2.8 per cent said they would ask Facebook friends (with a meager 0.2 per cent opting to poll their Twitter followers).
For PRs and marketers, I think the message is simple: don't underestimate the power of Google!  And those in the PR community who have resisted the opportunity to embrace search/SEO definitely need to think again.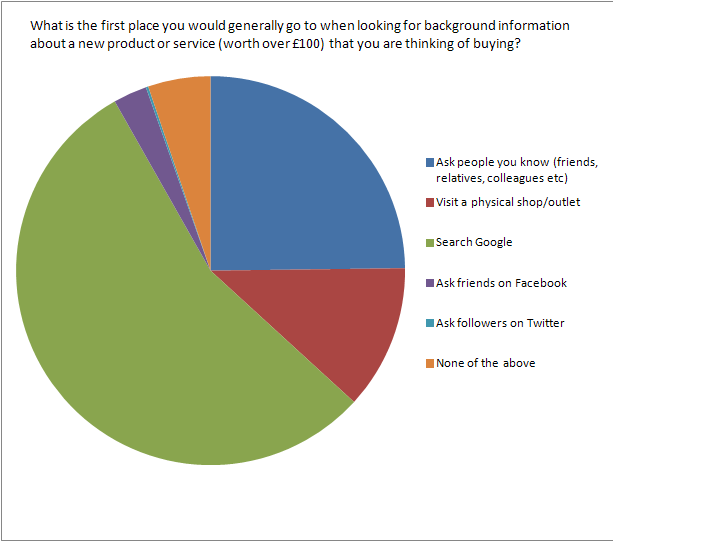 To run this poll I used brand new online survey service, Usurv.  It's very easy to use, incredibly cost effective and extremely quick – I received the results of my survey of 500 people in less than two hours last Friday afternoon! This is NOT an omnibus or panel survey.  Usurv posts questions across its network of UK partner sites and has a very high response rate – which means you usually get your results in a matter of minutes or hours.  And you can run your survey any time (day or night) – there is no fixed schedule.
For PRs and marketers, I think Usurv will soon be the obvious first choice for running online polls.