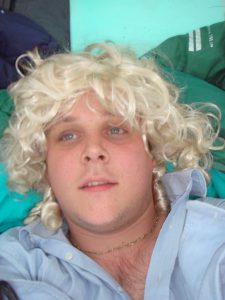 It's sad, but true.  Pictures of pretty blonde girls sell newspapers. Or at least that's what the UK papers themselves seemed to believe in a big way yesterday.
On the day the nation's teenagers got their A' level results, there was a buzz doing the rounds of the blogs and social networks about the fact that anyone who'd just received their exam results had a sure-fire way for getting their name and picture in the papers – as long as they were a pretty blonde. The idea was peppered across the Guardian's live A' level results blog, with one Tweeter reported to have given the following advice:
Girls: collecting A-level results today and want to get in the papers? Quick! Dye your hair blonde, straighten it, wear a vest top and JUMP
Another Tweet proclaimed:
I can confirm males are getting A-level results today too – my little brother just got in touch with news of his
A quick scan of the media coverage confirms that many of the A' level pass stories were indeed accompanied by images of pretty females (see this page which has collated pics from yesterday's papers).
This blog is about technology PR, so is there anything that B2B technology companies can learn from this?  Just that it's another clear example of how photography can help get you media coverage.
Whether you agree with the very un-PC focus of yesterday's A'level press coverage or not, it's certainly true that if you have a strong, unique or just plain attractive image to go with a story, you're likely to get better results.  And that's just as true in technology and business media (as any good tech PR will tell you).
As an aside: in the past I've noticed that pics of female technology spokespeople were slightly more likely to be used by the tech media (hardly surprising in a traditionally male dominated industry).  Although I couldn't say for sure whether this is quite as true today.
Photo curtesy of ElPablo! under Creative Commons