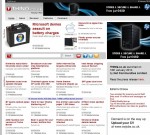 In case you hadn't noticed it, THINQ is the latest tech news site that has launched into the crowded UK market.  Edited by veteran tech journo, Paul Hales, it ticks all the boxes in terms of covering all the top stories of the day and including reviews and features.
Describing itself as "a platform on which an industry can discuss with itself the issues of the day" the site's short cheekly headlines and the way stories are spread in a grid across the home page reminds me a little of the Register (which I think Hales has some history with).
It's great to have plenty of choice in the tech news arena, but with so many sites covering pretty much the same news, it must be a tough call for each one to differentiate itself from its competitors.
All the same I wish the new site well.