The PR Challenge
When search analytics software leader, Searchmetrics, entered the UK market, its main PR goal was to support sales by raising its profile and building credibility in the online marketing sector. A key requirement was targeting search engine marketing professionals and agencies – a tightly-knit community which is very active on social media.
Approach
CloudNine PR has executed an ongoing campaign combining media and blogger relations with social media activity that has helped Searchmetrics to break the ice with key UK journalists and bloggers, and resulted in guest posts and media coverage on influential sites such as Econsultancy.com, New Media Age, Utalkmarketing, Marketing Week, State of Search and B2B Marketing.
An important element of the PR effort is newsjacking – getting Searchmetrics quoted as experts in blogs and articles covering search related news about Google and the major search engines. This task is greatly helped by Searchmetrics' software, which provides in depth data that can be used to analyse search engine changes and trends (it also delivers data to evaluate the social networking strategies of any web site or brand, allowing us to quickly generate interesting news stories).
One extremely successful newsjacking campaign involved working closely with Searchmetrics to publicise the company's analysis of the UK rollout of Google's Panda algorithm update. Timing was a key factor, and within two days of the Panda update going live in the UK, Searchmetrics had posted its analysis on its blog and CloudNine PR was pitching the data to key UK media and blogger targets, highlighting newsworthy story angles and offering interviews with Searchmetrics' executives.
In addition to targeting the media, important SEO agency bloggers were encouraged to share and write about Searchmetrics' data within their own blogs and social networks and a concerted effort was made to drive mentions on Twitter.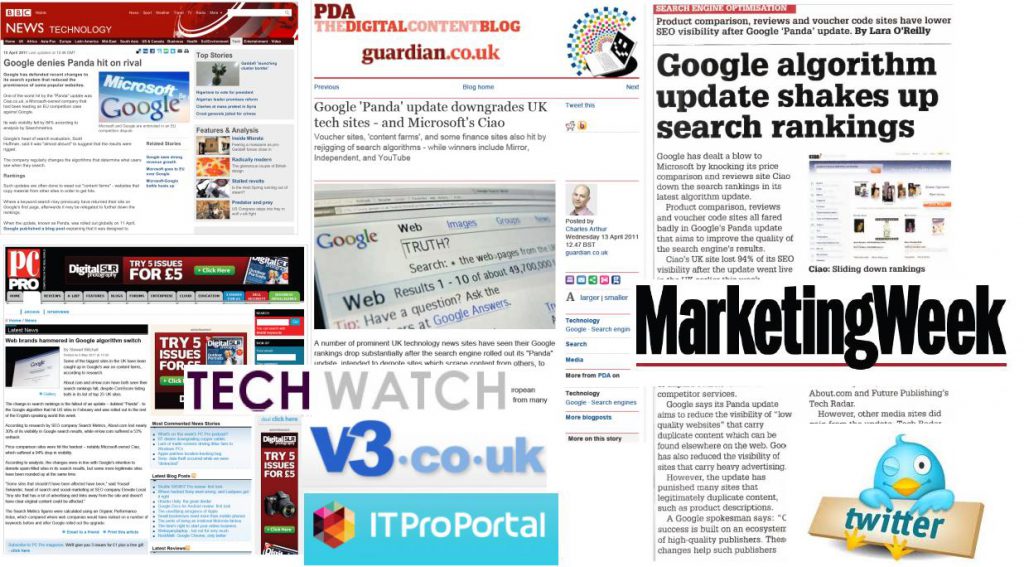 The results
The UK media results demonstrate how social media (ie Blogging and Twitter) and traditional media feed off each other today. They included the BBC News web site and the Guardian technology blog as well as the majority of the top UK marketing media, including Marketing, Marketing Week, Utalkmarketing and Econsultancy. Technology media that covered the story included The Inquirer, PC Pro, V3.co.uk, Computer Shopper and Web User.
The campaign produced dozens of mentions about the Searchmetrics' study on SEO blogs and many hundreds of twitter mentions, as well as comments and links back to the Searchmetrics blog. The PR exposure helped spread the message both nationally and internationally, with French national newspapers Le Monde and Les Echos also covering the story.
The PR helped to dramatically lift UK awareness and credibility for Searchmetrics. Traffic to the web site increased substantially, with many thousands of visits to the publicised study on the company blog in the week of the campaign. 20+ sales inquiries came in on the first day and there was a significant rise in incoming calls weeks afterwards.
Client quote
"The PR campaign to publicise the UK roll out of Google Panda PR was an excellent example of media and social media working together to drive results," said Dr Horst Joepen, CEO of Searchmetrics.
"CloudNine PR worked with us to pounce on the opportunity to get our data mentioned in the rapidly building Google Panda UK news story. The coverage results, which included high profile national news sites, as well as marketing and technology media and hundreds of social media mentions, surpassed our expectations. It all translated into increased visibility and credibility for us. If the UK search industry had not heard of Searchmetrics before Panda, they certainly have now!"