Given it happened on Wimbledon finals weekend, everything I read and hear about the shit-storm that's erupted around Andrea Leadsom's much publicised interview with The Times, brings me back to John McEnroe's famous 'you cannot be serious' centre court rant aimed at the All England Club umpire in the 1980s.
Because let's face it, Leadsom really cannot be serious if she feels The Times has done anything that any other newspaper wouldn't have done, given the ill-judged remarks she made in an interview with one of its political journalists.
The paper – if you don't already know – published a front page lead on Saturday, headlined "Being a mother gives me edge on May – Leadsom".  The article discusses how Leadsom, who is contesting the Tory party leadership against Theresa May, suggested she's better qualified than her rival to lead the Conservatives because she has children (while May and her husband have been unable to have them).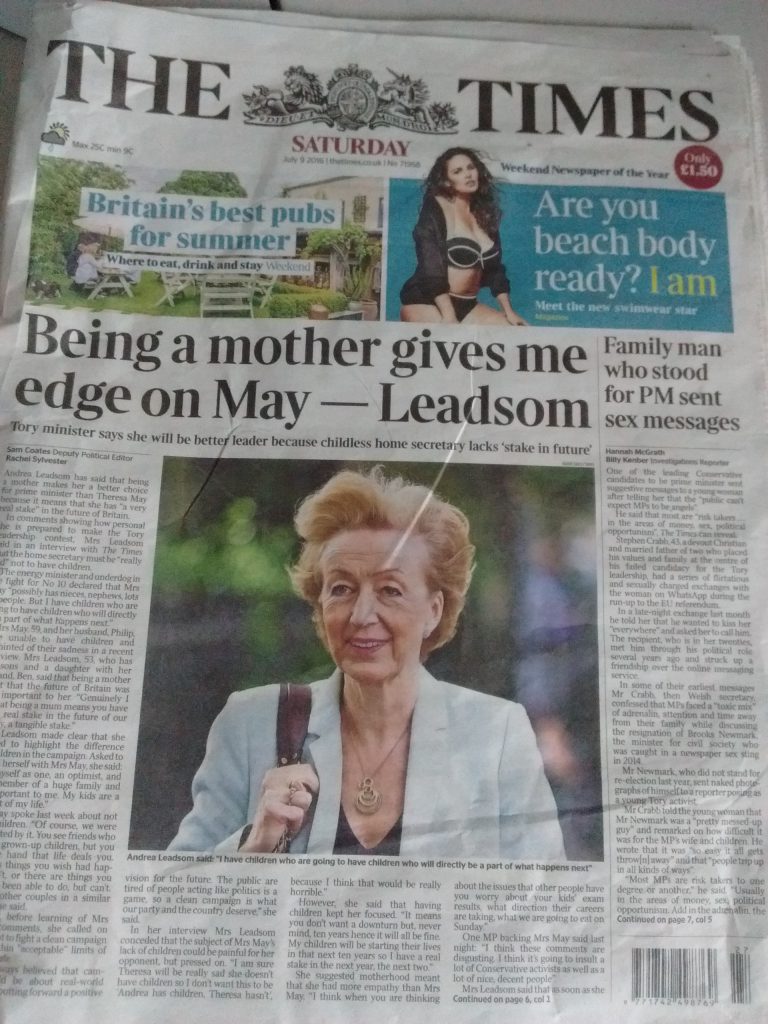 Leadsom implied that a politician who has children is going to be more concerned about the future impact of government policy.  Her exact words – which have been doing the rounds of other newspapers, were:
"So really carefully because I don't know Theresa really well, but I'm sure she will be really sad that she doesn't have children so I don't want this to be 'Andrea's got children, Theresa hasn't' – do you know what I mean? Because I think that would be really horrible.
"But genuinely I feel being a mum means you have a very real stake in the future of our country. A tangible stake.
"She possible has nieces nephews, lots of people. But I have children who are going to have children who will directly be a part of what happens next.
In another comment she suggests that being a mother means she'll be more concerned about whether her (presumably Brexit-related) policies will lead to a short term downturn:
"My children will be starting their lives in that next ten years so I have a real stake in the next year, the next two."
When she read on Saturday how The Times had constructed the story, Leadsom immediately complained about it on Twitter, expressing her disgust (via a statement on her blog) at the way her comments had been represented .  She's also been asking for a full transcript of the interview to be published (because presumably if we read the full transcript we will see her comments in context).
The problem is that Leadsom seems to have made (at least) five rookie PR mistakes in the way she has handled this whole media crisis – which I'm sure any experienced PR or media trainer would have advised her about:
1. If you don' want it to appear in print, then don't bring it up when talking to a journalist
She was the one who made the remarks comparing her own situation with May's childless state – so she can't complain that The Times has chosen to highlight it.  Journalists are paid to identify and write up the juiciest angles to sell newspapers!
2. Don't expect journalists to take account of how you would prefer them to write a story

At one point in the interview, Leadsom says to her interviewer I don't want this to be 'Andrea's got children, Theresa hasn't'.  Presumably that's why she naively felt it was safe to make the remarks she did.  But there is never any compunction for a journalist to write a story the way you ask them to.
3. Don't be surprised if journalists are persistent about trying to catch you out
In the statement published on her blog Leadsom claims the interviewer repeatedly asked her about her children.  Seemingly implying that she finally gave in under this heavy pressure.  As if somehow this is an excuse for the comments she gave the paper.   Well hello! This is what good journalists do!
4. When there's a negative story about you, sometimes it's better to leave it alone
Since the story appeared, Leadsom's campaign team has gone into overdrive.  Numerous party members that back her leadership bid have come out in the media in support of her.  I heard several radio interviews over the weekend in which these people have had to awkwardly skirt around the insensitive words that Leadsom actually said in the article, their main defence of her being that she's basically a decent sort who is not really like that.
The problem is, each of these interviews has given further air time to the story and each time it hammers home the insensitivity of Leadsom's remarks and how easily she was led.
5.  If you make a mistake, acknowledge it and apologise as soon as you can
This morning I woke up to hear that Leadsom has belatedy overnight made it clear she's apologised to May for any hurt she  might have caused. If Leadsom had done this on Saturday morning – right after the story appeared – maybe she might have been treated with a little more sympathy.
I'm pretty certain that Leadsom will certainly not have wanted her comments to be written up the way they have been.  And I would imagine she did face some dogged questioning from an experienced political journalist.  But if she's going to be so easily manipulated, how would she cope in high office?  She really can't be serious!