These are just some of the many fascinating digital marketing insights shared at the Searchmetrics' Summit in Berlin last month.
The company, which provides technology for search and content optimisation, gathered a stellar line-up of marketing big-hitters from brands and agencies to debate the hot  issues dominating the sector. Here are five things that stuck in my mind from the speaker sessions I attended.
 1. Search data can reveal how shopping styles differ in different countries
In his opening keynote, Searchmetrics' CEO, Volke Smid, focused on showing us how search data can give C-level executives a better understanding of the market they're operating in. In this instance Volke presented an overview of search insights that explain the goings on within the German home DIY market (a sector in which established retailers are currently being disrupted by online newbies).
What caught my eye was one intriguing slide that highlighted how the monthly search volume for the term "cordless drill" in Germany averages around 45,000 – compared with 18,000 in the UK and 22,000 in the USA! So how on earth can Germany have more than double the search volume than the USA? Believe it or not, it's because German shoppers love doing their research before making a purchase – while US consumers are less into this, Volke explained.
The 'search intent' behind a query such as "cordless drill" is typically all about gathering background information ahead of making a buying decision – something that German shoppers devote more time and effort to. US shoppers, on the other hand, are typically more often looking for content that points them in the direction of the best deal!  Which is why if you look at Volke's next slide (underneath), you can see that that searches for the phrase, "BEST cordless drill" in the US are many times higher than in Germany or the UK.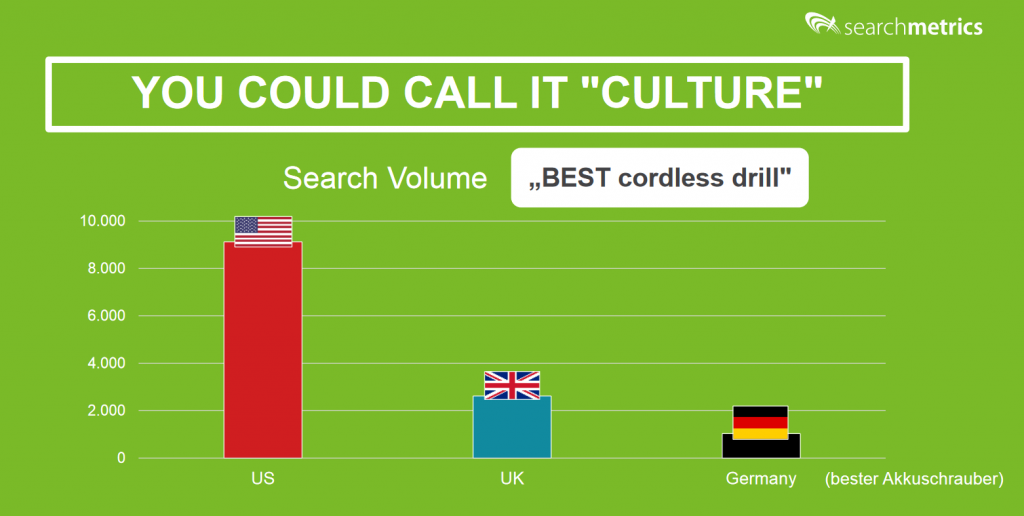 2.Brands are using AI to take the content creation burden off human copywriters
In his session, Amory Kelie, Global Director Organic Traffic Generation at Adidas gave us a fascinating run down of 'How will SEO help adidas grow its digital business from 1 billion in 2016 to 4 billion in 2020'. But one thing that particularly got my attention was how the sports brand is planning to embrace artificial intelligence within its content marketing activity.
In fact, Amory revealed that one of Adidas' objectives is to get to a point where 95% of the task of writing product descriptions is being completed by AI – just 5% of the effort will be down to human copywriters.  According to Amory, content creators should applaud the fact that AI is starting to support them. If AI can take on the more mundane aspects of the job, such as churning out product copy, it will mean human content writers are freed up for more interesting and creative projects.
3. Launching a Chabot?  The hard work really starts once your bot goes live!
Lots of companies are currently pondering (or formerly investigating) whether a Chatbot can add value to their marketing. Well Emilie Reynaud, international project manager at Ringier, is someone who's already worked through the experience of creating and launching a successful Facebook Messenger bot for one of her clients. And she shared some fascinating learnings.
For example, while it took many months of research and planning to launch the bot she was working on, much of the hardest work, she explained, really began when the bot was unleashed on real customers. On go-live day, Emilie told us, one of the most embarrassing fails was that her team had not taught the bot to understand what a Facebook like was.  And guess what? A Like was the first thing that many consumers began their interactions with – leaving the bot confused and unable to move forward.
Over the following two months, Emilie and her team were able to train their bot so that it progressed from providing the right info to customers 62% of the time, to getting it right 85% of the time.
4. Target the consumer's 'reptile brain' to draw more attention to your web content
Conversion Optimisation Expert, Nils Kattau's presentation – on 'High-end Form Optimisation For More Leads & Sign-Ups' – provided a handy list of hints on how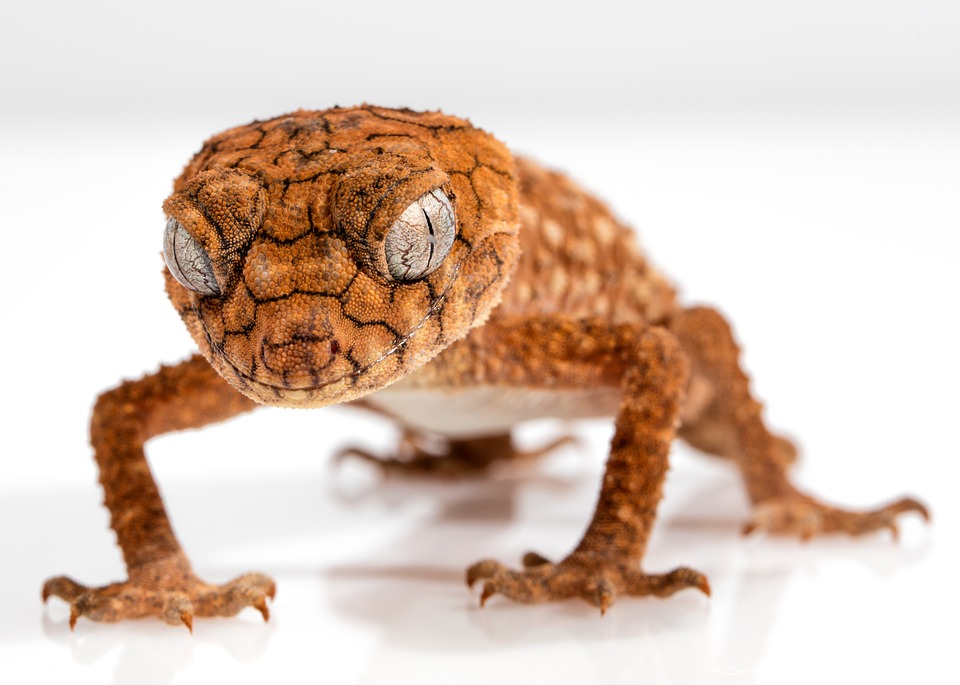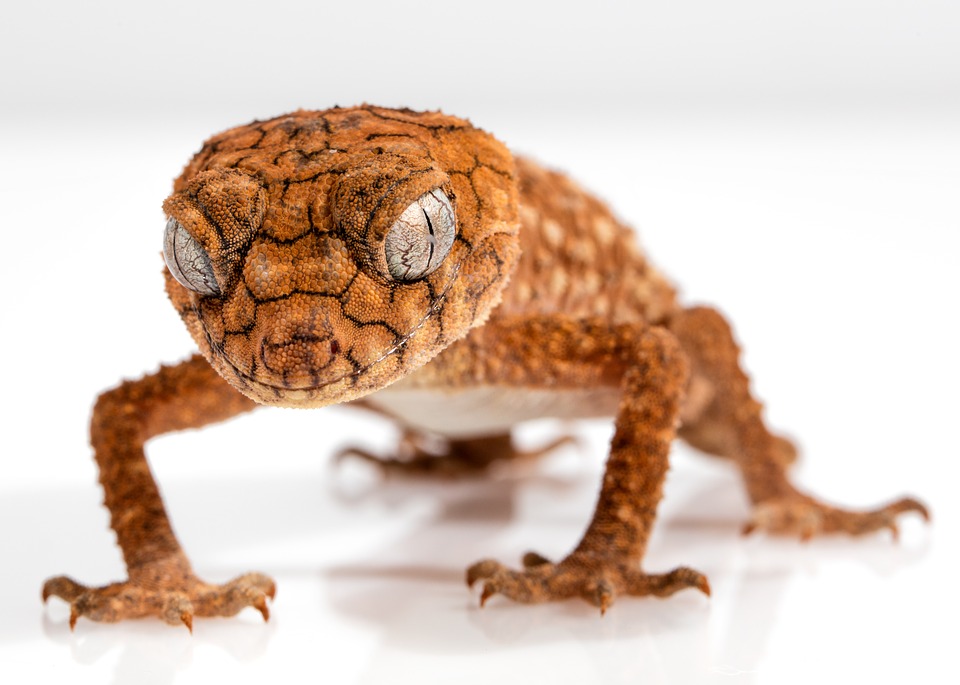 to optimise the user experience so that people are more likely to complete online forms on your website. But I was particularly intrigued when in one little aside, Nils told us how it's possible to target the web visitor's reptilian brain to get them to pay attention to specific content.
The reptilian brain – the oldest part of the brain – is mainly focused on instinct and survival and apparently, Nils explained, it's more receptive if messages on a website come sliding into view from the left or right side of the screen. My assumption is that this is connected to how primitive man had to be alert to the danger of predators galloping into his/her field of vision from either side!
If you're interested, I stumbled on this post about the reptilian brain which includes examples of how marketers have tried to appeal to it.
5. Now your search and content strategy needs to get ultra-specific  
Marcus Tober, Searchmetrics' founder and CTO – and all-round search, content and data guru – focused his talk on why your strategy for optimising content to perform well in search now needs to be closely tied in (even more than before) to the specific search intent and the industry or niche audience you're targeting.
What he means here is that we can longer simply follow broad rules such as 'make your content longer'; 'include a keyword in your title'; and 'pack you pages with relevant images' if we want to perform well in search.  Google's getting smarter about understanding search queries and determining what's relevant, which means marketers also need to get more sophisticated.
For example, we can't just say that longer content ranks highly – because Searchmetrics' data shows that it depends on the vertical industry. The average word count on the first page of Google for travel related searches is 2,700 words for example. While for finance related searches it's around 1,800 words.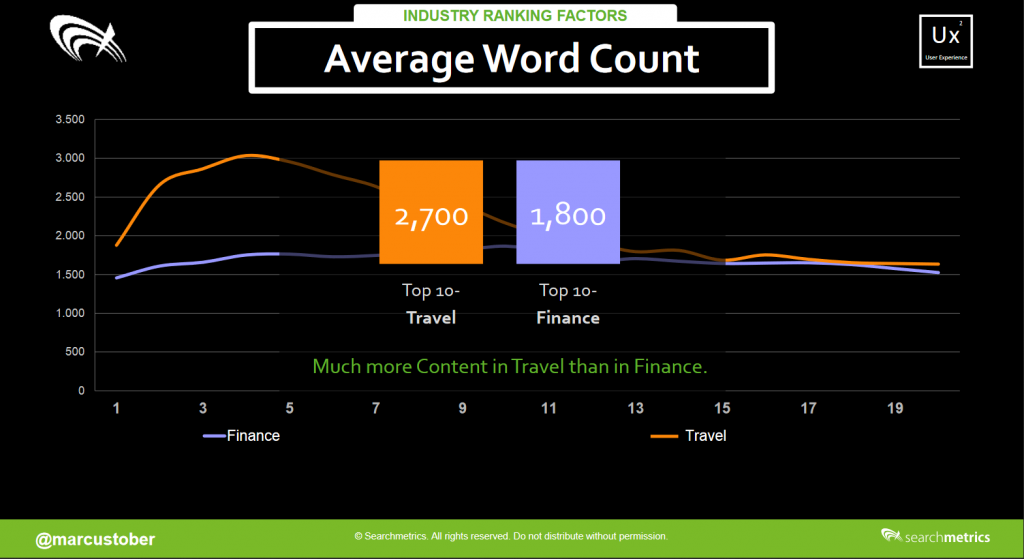 Similarly, travel related results on the first page have an average 2.15 images per page, while for finance it's only 0.92. And for certain queries, such as 'foreign exchange' or 'currency converter', images are pretty meaningless.
So the old, 'universal' rules for SEO can't be followed blindly any longer.
Marcus went further in underlining this statement by showing use how search and content optimisation rules need to vary across different niches. For example eight of the top ten Google results for online recipe searches use Schema.org (Microdata), while for internet dating searches it's only two of the top ten. Why? Because recipe searchers want structured guidance  – and microdata helps Google find and display step-by-step instructions in featured snippets within the SERPs.  By contrast, dating searchers are usually just looking for the best platform for dating – which makes Schema / Microdata less of a priority.
Similarly 0.38% of search results for 'weight loss'-related content uses videos on the page (with most videos ranked in position 1 or 2 on Google), while for searches related to wine-related topics video content doesn't feature at all in high ranking pages.
So the lesson from Marcus' presentation is: get more intent and audience specific about the way you optimise content for search.
If you want to know more about the topics that were covered in the summit, you can look through the presentations and videos on the Searchmetrics website here.