If you're a technology marketer, what do you consider the best way of getting news and information about your company in front of IT decision makers? Print magazines? Twitter? Trade Shows? Marketing Emails?
To help answer the question, we recenly commissioned a survey of 300 UK IT chiefs, including CIOs, IT directors and IT managers, to find out what they prefer. And we crunched the results  to come up with our very own list (see below) of IT chiefs' preferred technology news and information sources.
What methods do UK IT chiefs find 'useful' or 'very useful' for keeping up-to-date on IT industry developments, including general news from IT companies?
1              Online publications (64 per cent)
2              IT blogs (52 per cent)
3              Trade shows (50 per cent)
4              Printed publications (47 per cent)
5              Vendor Events (44 per cent)
6              IT Analyst blogs (40 per cent)
7              IT analyst events (38 per cent)
8              Vendor emails (31 per cent) and LinkedIn (31 per cent)
9              Twitter (20 per cent)
10           YouTube (19 per cent)
11            Facebook (13 per cent)
12            SlideShare (12 per cent)
(Based on an independent survey of 300 UK IT decisionmakers commissioned by CloudNine PR)
You'll see that online publications came top of our list, with 64 per cent of the sample saying they find them useful or very useful for keeping updated on IT industry developments, including news from IT companies.  Second came independent IT blogs, scoring 52 per cent, with print publications (47 per cent) coming fourth.
Interestingly, one in five (20 per cent) of the sample finds Twitter useful or very useful for keeping abreast of news and developments.  And LinkedIn – the more longstanding and business focused networking site – rated even higher with 30 per cent.
When I showed the results to a couple of tech marketers, they were a little surprised to see  more people choosing online publications ahead of print. It wasn't too long ago that most people would have thought it more valuable to get into the print versions of the weekly or monthly IT mags than their online sites.
And the fact that independent IT blogs are now so influential may present a challenge. Many marketers and PRs are still unsure how to approach bloggers. You've really got to spend time understanding each blogger's individual interests and preferences.  And sometimes you just have to respect that some bloggers don't want to be pitched to by companies.
As for Twitter and social networking, many IT publications and journalists are obviously already sharing their stories via these sites.  But perhaps the numbers of IT bosses who say they now access industry news via Twitter and LinkedIn indicates the sites are valuable enough for more tech marketers to start using them for directly sharing their news and information – and possibly creating specific content for social media.
It's worth highlighting though, that while everyone's focus seems to be online right now, trade shows and events came in at numbers three and five in our list. So it's definitely not all about online communication.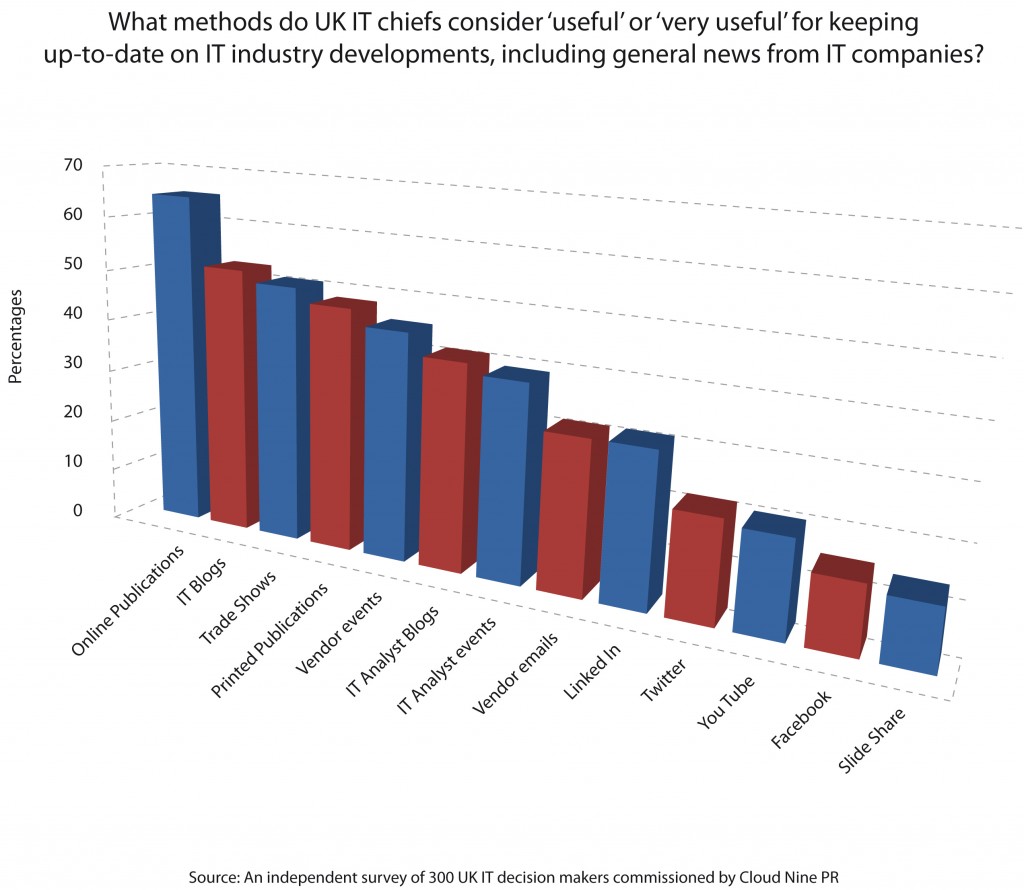 By the way, we commissioned independent research specialist Vanson Bourne to conduct the survey. They did a poll of IT decisionmakers, including CIOs, IT directors and IT managers in 300 UK companies.   The sample included organisations with 50 to 250 employees, 251 to 1000 employees and over 1000 employees. There was an approximately equal split of companies operating in Financial services; Manufacturing; Retail, Transport and Distribution; and Business and Professional Services.